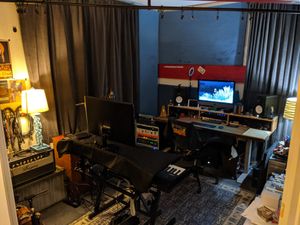 One Red Board is a project studio for songwriting and collaborative music endeavors.   
On the homepage, you will hear music that is mostly tracked here at One Red Board.
Systems, Instruments and Toys
Digital Performer, Logic Pro, Reaper
MOTU, Audient, Soundcraft interfaces
500 Series outboard gear
Vintage style Preamps and Compressors
Modern and Vintage microphones including tube condenser, FET, ribbon, and dynamic from AKG, Mojave, Shure, Oktava, Cascade, Sennheiser and others.
Digital weighted perfomance piano.  
Acoustic and Digital drum kits
Guitars and basses and amps and pedals.